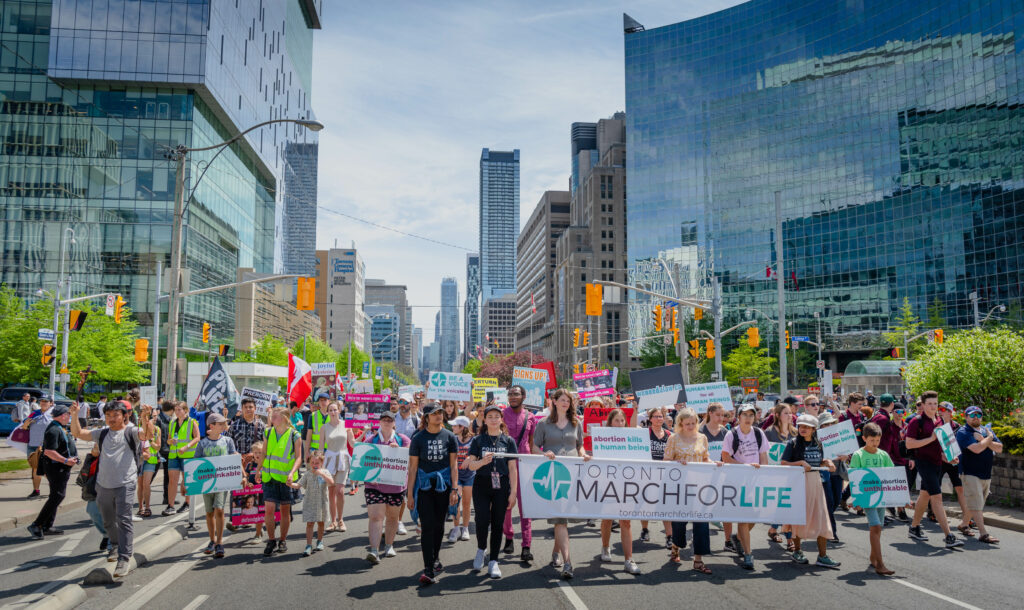 On Friday, May 12, pro-life people from across Ontario and beyond gathered at Queen's Park for the third annual Toronto March for Life.
This is a big event that Toronto Right to Life is proud to co-organize and we were so pleased to see hundreds of people join us to "Be a Voice for the Voiceless" – as is the slogan of the March.
It is an uplifting and encouraging thing to gather with so many like-minded people, aside from a group of pro-choice protestors, who all sacrificed their time and energy to say that they want to see an end to abortion.
But that's not all it means to be pro-life.
At the March, we heard from so many members of the movement who shared their stories of how they got involved and what they do to end the injustice of abortion.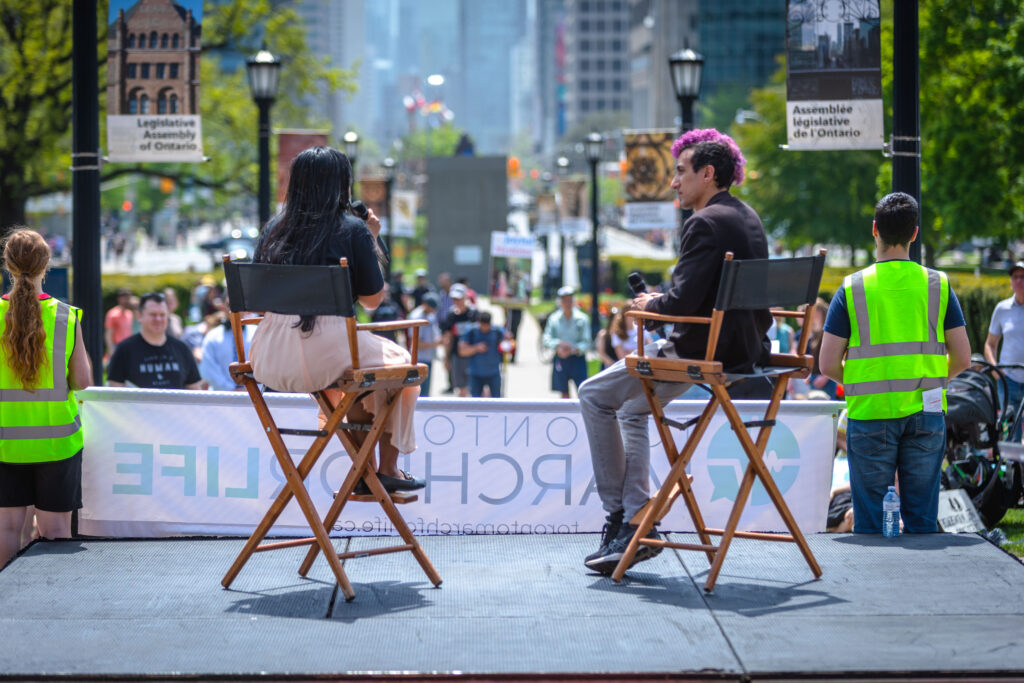 Blaise Alleyne talked about how he travels across the continent to give powerful and motivating speeches, like the one he gave at the March, to inspire pro-lifers to get involved and works full time at CCBR. Michelle Caluag spoke about working full time to keep Toronto Right to Life effective at educating people to share the pro-life message by ensuring presentations, outreach, and apologetics training happen all year round. Ryan Mans and Anna Nienhuis described their work to promote and pass pro-life bills. CCBR intern Nathalia shared how she is using her heartbreaking story of abortion regret to offer those who might relate a welcoming, forgiving, and loving community to help them heal from the trauma of abortion.
These make up some of the essential people in the pro-life movement in Canada who are going above and beyond.
But really, we are all essential.
What does it mean to be part of the pro-life movement in Canada?
It means knowing the truth: that abortion kills an innocent human being, which is always wrong.
It means being constantly unsettled knowing that our country is one of the few with no legal protections for preborn children and that nearly 300 lose their lives every day.
It can feel overwhelming and hopeless at times.
But being part of the pro-life movement means we don't give up. We march, we pray, we share the truth about abortion – even if that is an uncomfortable conversation. We get involved.
We help women considering abortion choose life by helping pregnancy resource centers. We contact our elected officials and let them know we want our voices heard on the issue on behalf of the thousands of preborn children who have no voice. We donate to pro-life organizations, especially if we don't have the time to volunteer ourselves, to enable others to get active.
If you are wondering how to get started in the movement, I recommend taking an apologetics tutorial to defend the pro-life position. No matter how else you may be helping to end the injustice of abortion, knowing how to respond to a pro-choice person in the most persuasive way is something we all benefit from, and is so necessary in such a pro-choice culture.
Toronto Right to Life offers many opportunities to learn how to speak with others about abortion, such as the annual Crash Course, where participants receive everything they need to feel confident having these essential conversations. We also offer one-on-one tutorial sessions, on request.
The fact that abortion is wrong is written on the heart of every person. Moral truths always are. Our culture denies that truth and subverts it by claiming it is a good thing: a benefit to women and children. But because abortion kills an innocent person, harms mothers, and hurts many more, it is so important that we speak up and be a voice for the voiceless. When we share the truth with effective arguments delivered with love and compassion, the moral truth is unleashed. The mask is lifted, and we can see the change of heart before our very own eyes.
What it means to be pro-life is being willing to do the hard work, the unpopular work, of putting ourselves out there and making changes in our culture. Heart by heart and day by day. Prayer by prayer. Gift by gift. On we march, until abortion is no more.
---
Watch this video from Toronto Match for Life 2022. Will you join us next year?